Shine On With Grand Slam Car Wash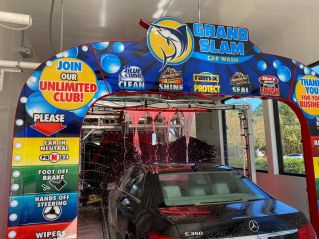 Grand Slam Car Wash is the ultimate destination for all your car cleaning needs. Our state-of-the-art facility offers a variety of car washing and detailing services, designed to keep your vehicle looking its best.
We use only the highest quality cleaning products and equipment to ensure that your car receives the best treatment possible. We offer a range of wash packages, from our basic exterior wash to our full-service detailing package, designed to meet your specific needs and budget.
With every car wash our guests gets access to FREE to use high power vacuums, window cleaner, and microfiber towels. We offer the only truly Unlimited Car Wash Plans in Hampton Roads. Pay once a month and wash truly as much as you want!
Your vehicle is an important investment, and we are committed to helping you maintain its appearance and value. So why wait? Visit us today and experience the ultimate car washing and detailing experience!